[et_pb_section][et_pb_row][et_pb_column type="4_4″][et_pb_text]
Make 2020 travel easy with these top-rated, durable suitcases.
No matter how often or why you're traveling, you'll need a suitcase that suits your needs. It has to be spacious enough to hold all your stuff, light enough to carry around, and durable enough to last year after year.
The Good Housekeeping Institute's Textile Lab tests luggage of all kinds, from carry-ons, to checked bags, and more. We evaluate in them in the Lab by measuring things like abrasion and scratch resistance, water resistance, weight and size, ease of use, and durability in our drop tests. We also perform packing tests to compare compartments and see how much each can hold. Then we bring in consumer testers to use the luggage in an obstacle course and give feedback on aspects like handle comfort, wheel performance, and maneuverability.
One thing we're always asked: Is soft or hardside luggage better? The answer: It's a personal preference. For hard shell luggage, we recommend going with polycarbonate because it's both durable and lightweight. Aluminum is heavier and ABS plastic is less durable. For softer fabric luggage that's more flexible to stuff into tight spaces (e.g. car trunks or overhead bins), nylon's your best bet because it's strong and water resistant.
After combing through the past 10 years of test data and researching new styles, we've selected the best luggage brands based on top-performing cases from our tests, our expert favorites that we use when we travel, and newer styles with unique features. Read on to learn more about our top picks, but in summary the best luggage brands to shop in 2020 are:
Best Overall Luggage: Away
Best Value Luggage: Open Story
Best Under-$100 Luggage: AmazonBasics
Best Luggage for Families: Thule
Best Luggage for Long Trips: L.L.Bean
Best Luggage for Frequent Flyers: Hartmann
Best Luggage for Infrequent Flyers: American Tourister
Best Luggage for Business Travel: Samsonite
Best Luggage for Adventure Travel: Eagle Creek
Best Luggage for Flight Crews: TravelPro
Best Luxury Luggage: Bric's
Best Classic Hardside Luggage: Rimowa
Best Printed Luggage: Heys
Best Customer Service: Tumi
Best Overall Luggage: Away Luggage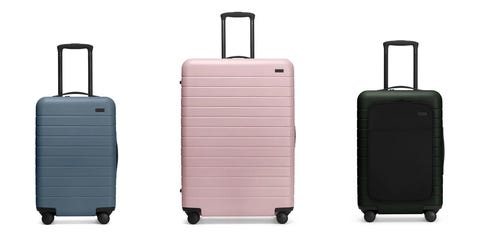 This direct-to-consumer brand makes suitcase shopping a whole lot easier: It offers a top-quality bag in a variety of sizes and colors. The luggage is made of 100% polycarbonate, so it's durable yet lightweight — even lighter than some fabric bags we've tested. It's also surprisingly spacious and has an easily removable battery so you can charge your phone or other devices, while still complying with airline regulations. The company offers a 100-day any-reason return policy, so you can send it back for a refund even after you've used it.
Best Value Luggage: Open Story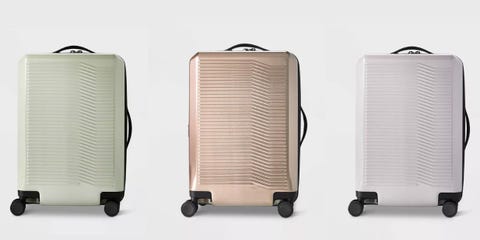 Target's new luggage brand gives you
top-quality hardside materials and a lower cost than its competitors.
The
carry-on size
is just $150 and is lightweight, spacious, and has lots of compartments to keep you organized. It even comes with a detachable laundry bag and a USB port in case you want to add a battery to charge on the go. The
checked size
is $180, and both sizes have polycarbonate shells and come in nine different colors.
Best Under-$100 Luggage: AmazonBasics Luggage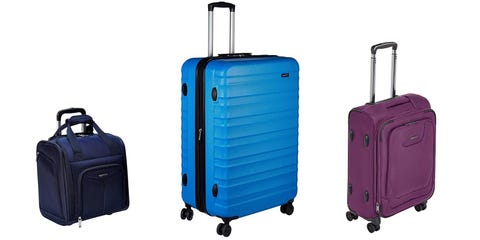 It's hard to find luggage for under $100, but Amazon's brand does not disappoint. There are soft and hardside styles to choose from, plus travel backpacks, duffels, and more. We recently reviewed the underseat luggage and found it was a total steal. Amazon also boasts extensive testing to make sure it'll hold up and though it might not be the absolute best quality out there, the price can't be beat.
Best Luggage for Families: Thule Luggage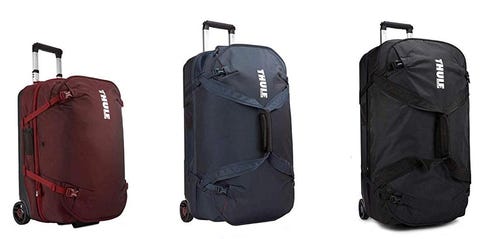 Thule's luggage is made of durable materials that you can count on to last, and the Subterra duffel collection has a unique 2-in-1 design that let's family members share luggage while still keeping their items separate. The two compartments can be attached and rolled as one suitcase, then when you get to your destination you can take them apart as two separate duffel bags. It comes in three sizes and uses a mix of a hardside and softside materials that aced our durability tests.
Best Luggage for Long Trips: L.L.Bean Luggage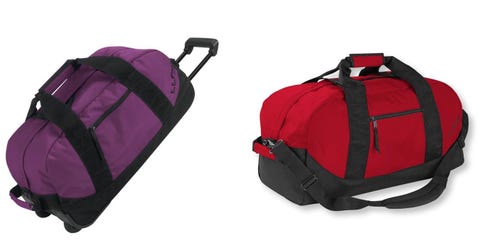 If you're going away for weeks or just have lots to pack, L.L.Bean's duffels are roomy enough to stuff in everything you need. There are options with or without wheels and lots of sizes to choose from (the extra-large bag has a whopping 36-gallon capacity!). The flexible shape also allows it to store easily under your bed, so it's perfect for college students or summer camp goers. It's also made of a durable, water-resistant nylon fabric to last no matter where your travels take you.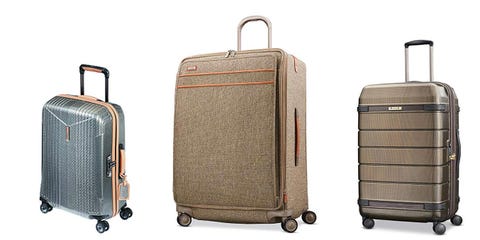 This luxury brand is on the pricey side, but has timeless designs — from hardside to tweed fabric — that never go out of style. In fact, the brand's marketing and aesthetics are focused heavily on its heritage. It has been a top performer in our tests thanks to its spacious interior that's easy to pack and its wheels and handles that make it smooth and comfortable to maneuver. It outperformed even pricier styles, so you know you're getting good bang for your buck.
Best Luggage for Infrequent Flyers: American Tourister Luggage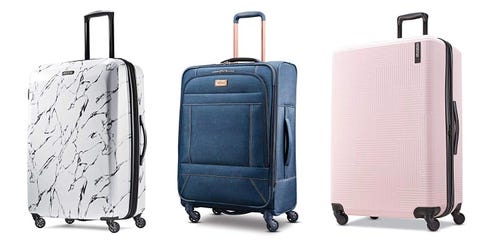 If you don't use luggage regularly — i.e. it doesn't need to be the most durable and you don't need all the bells and whistles —American Tourister offers good value and lots of options to choose from. There are lots of options if you prefer bright colors and fun pritns, plus there are cases for the entire family, including kids.
Best Luggage for Business Travel: Samsonite Luggage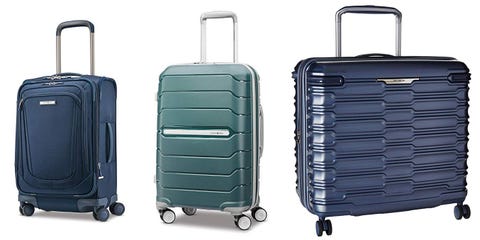 Samsonite's another brand that has proven high quality as we've tested it over the years, including both hard and soft styles. It has specifically stood out for durability and ease of use: There's been no struggling to open and close the cases, and packing them has been a breeze thanks to the functional compartments, making them perfect for someone who is constantly on the go. We also love the designs, including the Stryde Glider which turns the luggage on the side so it's wide (not tall), making it more stable and less likely to tip if you stack another bag on top.
Best Luggage for Adventure Travel: Eagle Creek Luggage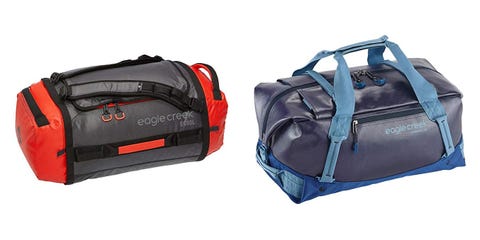 Whether you're backpacking through foreign countries or exploring a national park, Eagle Creek gives you both the convenience and durability you need in a bag. Some have various compartments so you can stay organized (or store dirty laundry separately), and some bags have straps so you can wear it as a backpack if you need to be hands-free. We especially love the Cargo Hauler Duffel: It's affordable, spacious, lightweight, and folds up into a small pouch for easy storage.
Best Luggage for Flight Crews: TravelPro Luggage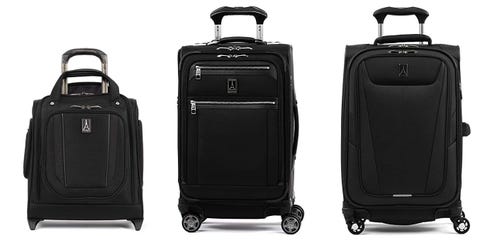 This company was founded by a pilot and it makes luggage specifically for airline personnel who travel for a living. It's primarily soft fabric luggage (though it does have some hardside available). There's excellent attention to detail that makes frequent flying easier, like cushioning around the handles, self-aligning wheels that let you roll the luggage in any direction, and abrasion-resistant nylon fabric.
Best Luxury Luggage: Bric's Luggage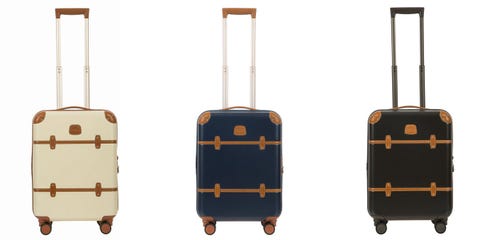 If you're willing splurge, Bric's luggage is both high quality and super chic. The Italian brand is best known for its leather, which it even uses as trim on non-leather cases. The Bellagio spinner was a top performer in a recent luggage test: It was lightweight yet held a lot inside and proved to be durable. And if you're on a budget, check out the brand's sale section — it has some of its bestselling styles in last season's colors.
Best Classic Hardside Luggage: Rimowa Luggage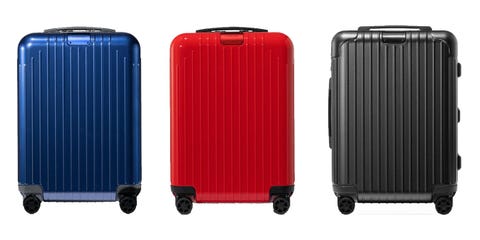 This brand has always been at the cutting edge of luggage materials and made the first polycarbonate suitcase in 2000. It only makes hardside luggage, but has several different collections ranging from the Essential Lite, which is the lightest and least expensive, to the Original, which is made of durable aluminum and clever packing compartments. It's super pricey — the cheapest case is over $500! – but its polycarbonate spinner was among the best in our test based on its weight, packing space, durability, and maneuverability.
Best Printed Luggage: Heys Luggage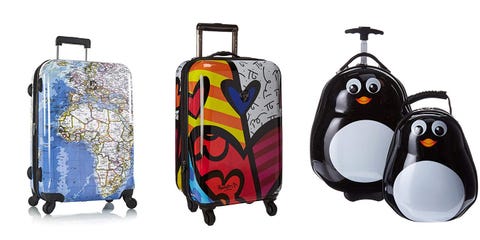 This brand increases the fun factor and makes it easier to spot your luggage in a sea of dark, solid colors. It has adorable animal sets for young kids, fashionable marble designs for adults, and even a printed world map so you can keep track of your travel wish list. Even cooler is its Smart Luggage, which uses airline-approved AAA batteries instead of lithium-ion to weigh your load via the handle and let you lock and unlock it with your phone.
Best Customer Service: Tumi Luggage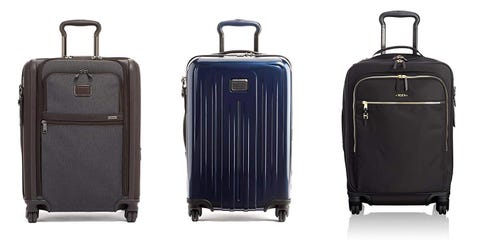 Rolling TUMI luggage through the airport is like a status symbol; the brand is highly recognized for its luxury products for both business and leisure travelers. In addition to its luggage, it makes accessories like briefcases and backpacks and has components that make traveling easier, like an anti-slip strap on carrying bags and an extra hook on rolling bags so you can wheel multiple items at once. On top of that, the brand stands out for its unique service offerings, like repairs and luggage registration to help you find lost bags.
[/et_pb_text][/et_pb_column][/et_pb_row][/et_pb_section]